New User Guide
Boathouse Connect is the premier tool for rowing organizations to manage their daily operations in the cloud. In order to get the maximum benefits of using Boathouse Connect, each athlete should have an account linked to their organization. In this guide, we will walk you through creating an account, getting linked to your organization, and getting all of your basic account setting squared away.
Basic Steps
Create an Account
The first step in joining your organization on Boathouse Connect is to create an account.
Go to Register -> New User using the navigation bar at the top of the screen. Follow the prompts until you have an account created. Make sure the first step is asking for your email address! If you have already created an account, proceed to Set Lineup Preferences
You will be asked to provide:

Email address (cannot be affiliated with another account)
First and last name
Phone number
Birthday
New password for your account
Set Lineup Preferences
The first step in joining your organization on Boathouse Connect is to create an account.
After you have created an account in the Create an Account step, login to your account By clicking the Login button on the top-right of this page. You will login using your email address and newly created password
After login, you will be brought to a Getting Started screen. On this screen follow the prompts will ask you

Your rowing preferences for Sweep (Port & Starboard), Sculling, and Coxing
Emergency contact information
Your current height, weight, and any dietary restrictions / allergies / special needs
Your current address (this is typically used for registering for regattas)

When answering the lineup preferences on Step 2 of the Getting Started screen, you will choose between the following options:

Never tried it
Done it a few times
Somewhat decent
I do this well
I am a master

By answering these questions as honestly as possible, your coach will have a better idea of where to place you in practice / regatta lineups. You can always change these answers as your skills improve from the My Profile -> Preferences -> Lineups page.
Join an organization
There are two different ways to join your organization:
Request an invitation using the Organization Finder widget on your dashboard
Be pre-authorized by your organization to automatically join
Option 1: Request an invitation
Using the Organization Finder widget on your dashboard (My Profile -> Dashboard), select your organization from the dropdown and click "Request Invite". Any user in your organization who is authorized to add new users can either Accept or Decline your request to join. All pending join requests can be viewed at the bottom of the widget along with the state of your request (Pending, Declined, or Accepted).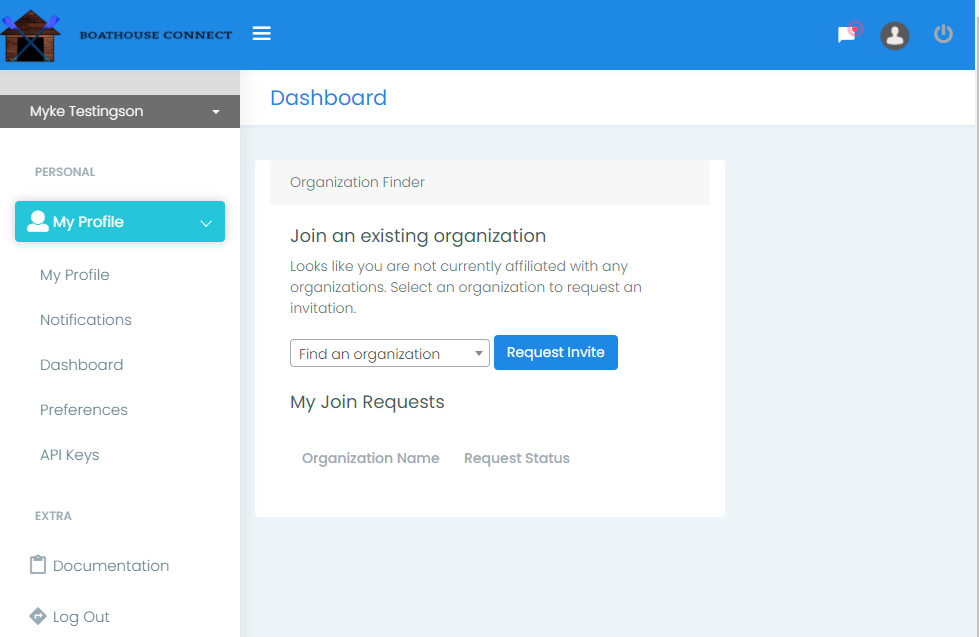 Option 2: Be pre-authorized by your organization
If your organization already knows that you need an account, and they have the email address that you used / are going to use to create your Boathouse Connect account with, they can pre-authorize you to join. If you have been pre-authorized to join, you will be automatically added to the organization once you create an account. If you create an account after being pre-authorized, you will also be automatically added to the organization. The only requirement to being pre-authorized to join an organization is that you use the same email address that the organization pre-authorizes you with. If you accidentally used a different email address, you can change your email address from the My Profile -> My Profile -> Contact Info page after you login.
Join multiple organizations
If you are affiliated with multiple organizations, you can join each organization that you are affiliated with by requesting to join using the Organization Finder widget on your Dashboard (or being pre-authorized by the organization). If you become affiliated with multiple organizations, you can switch between them using the Org Switcher button next to your notifications icon on the top banner or by selecting the organization when you login.
Upload a Profile Picture (optional)
This step can be completed either before or after you have joined an organization. Uploading a profile picture helps your coaches and teammates identify you a little easier (this is especially helpful when there are new people to the organization). If your organization manages lineups using Boathouse Connect, your profile picture will also display next to your seat.
Login to your account
Go to My Profile -> My Profile -> Profile Picture to upload a photo.
We recommend selecting a photo closer to your face vs one of you in a boat. That will make it easier for your teammates to identify you.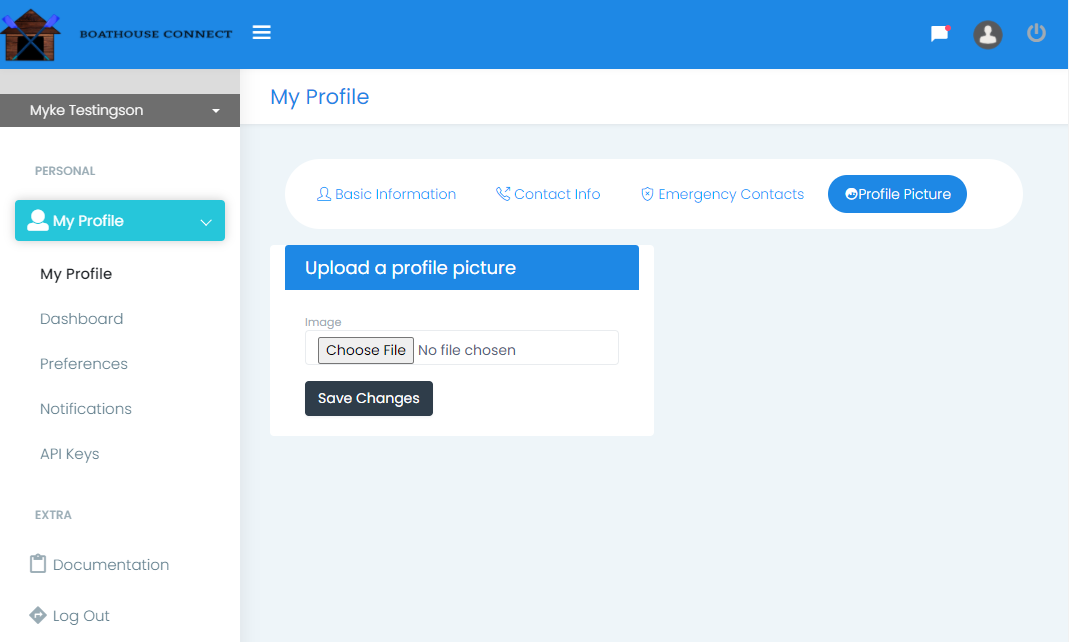 Add USRowing Number (optional)
Adding your USRowing number (if you are a member) is very helpful to your coaches when they are planning lineups for a regatta. Any USRowing sanctioned / insured regatta requires each rower and coxswain to have an up-to-date liability waiver and USRowing membership in order to compete. If your organization is using the "Professional" Boathouse Connect subscription, your waiver and membership status are automatically updated for your coaches to track. To add your USRowing membership number:
Login to your account
Go to My Profile -> My Profile -> Basic Information and you will see your basic information.
Add your USRowing number to the "USRowing Membership Number" box and click the "Save Changes" button at the bottom of the page.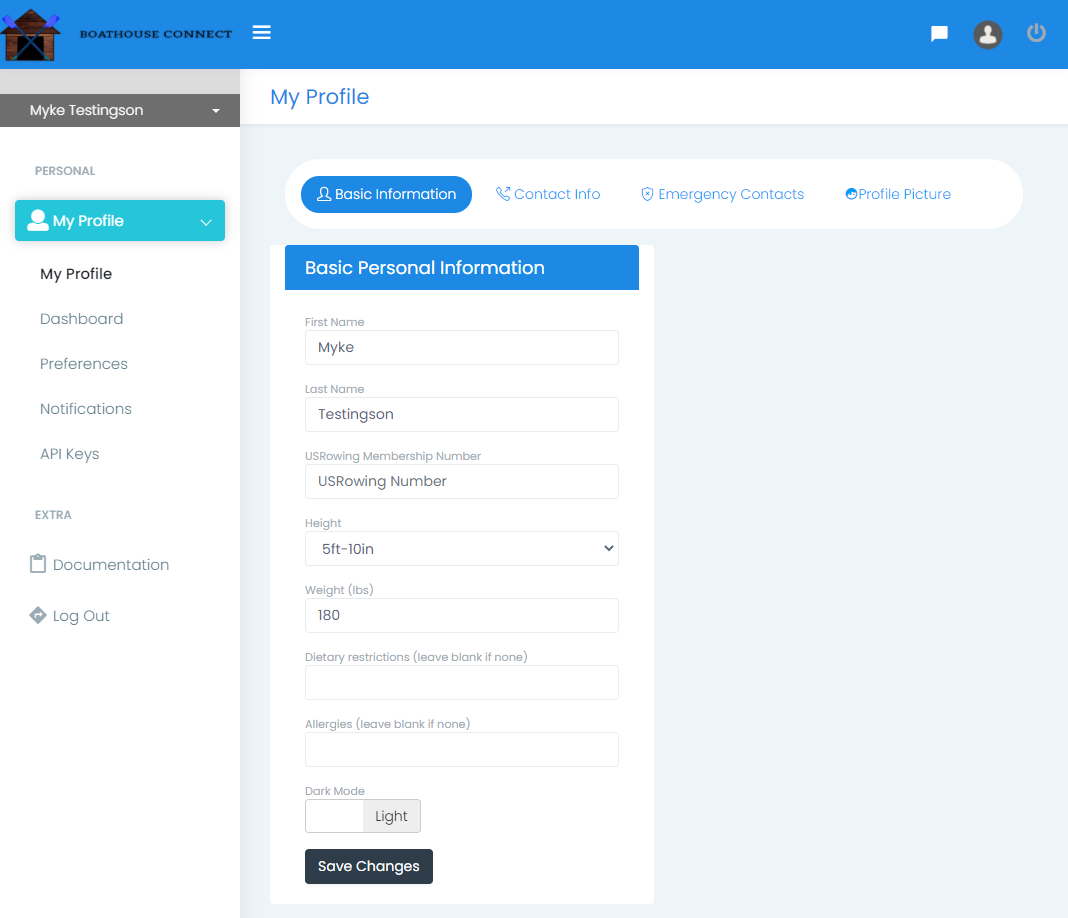 Join Groups (optional)
Groups in Boathouse Connect are used to classify users, assign permissions, control who receives specific communications, set equipment checkout allowances, etc. Your organization can create groups for you to join based on your role in the organization. When a new group is created, the creator can specify whether or not users like yourself can join them by yourself (Self Join) or if you need approval to join the group. To see the groups you are eligible to join, go to Groups -> My Groups. Once there, you will see a list of all of the groups in the organization as well as which ones you are a member of, and which ones you are allowed to join. If you want to join a group that has "Self-Join Allowed" set to "No", you can click the "Request To Join" button and a user who is authorized to add users to groups will add you to the group.
Additional Information
If you have additional questions beyond what was listed in this Getting Started guide, feel free to reach out to us using our Contact Form or by directly contacting your organization.
Happy Rowing!